I cannot talk enough about the nasty ingredients in pre packaged food. Below is one such example of "Well intentioned poor eating"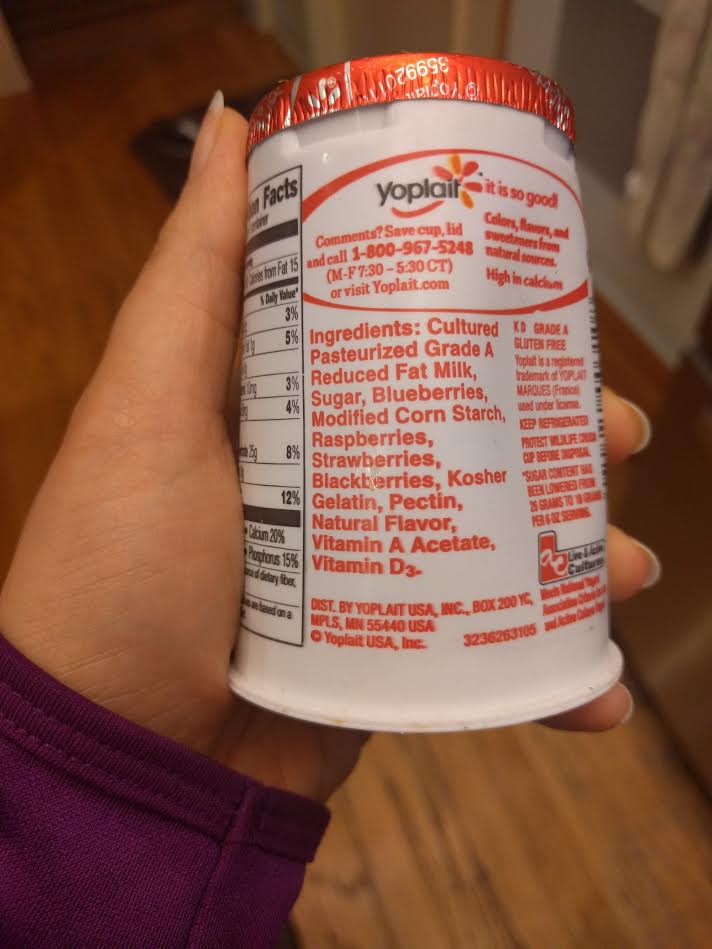 This is a yogurt most kids bring to school or eat after school and parents love the "fruit yogurt" for the calcium and fruit it adds to their child's body. Let's take a peak at some of the ingredients.
1. Modified Corn Starch: Modified corn starch is nothing but a chemically altered derivative of corn that is added due to its thickening property. This may NOT be a gluten free product and can be supplemented by food starch from; wheat, potato, rice, or tapioca (Read more here: http://bit.ly/2lhsqZj)
Modified corn starch often contains about 10% maltodextrin, which is a common keyword used by industry to hide the presence of monosodium glutamate (MSG). (Read more here: http://bit.ly/2kKbJ8r)
2. Natural Flavor: We often are quick to read the labels and put food items back on shelf when they say 'artificial', but we think 'natural' is good. 'Natural' in reality does not mean anything on food labels. Have you ever seen a strawberry saying "natural strawberry flavor"? No. Because it is common sense!
When using words like natural flavoring, you might be getting possibly anything in your food. It could excitotoxins (http://bit.ly/2jZCqBl) that can make you crave that food more and more-it becomes addictive. Makes sense as to why no one ever craves 'carrots' and they would crave a pack of chips!
3. Sugar: What does reduced sugar mean? Nothing-it means they had over 25 gms of sugar in their pack earlier and now it is 18 gms. Way more than what a child should be consuming in one meal (and this is a snack item).
Alternative?
FRUIT YOGURT


INGREDIENTS:
Full Fat Plain Greek Yogurt, Frozen Strawberries, Frozen Banana, Frozen Mango or any fruit of your choice, Fresh banana for texture and sweetness and small amount honey (optional).
INSTRUCTIONS:
Mix together in blender. To avoid runny yogurt, blend the fruit first and mix with the yogurt second.