One of the things I get asked often is "What on earth should I eat to get to my health goal?" My answer is - "it depends..."

It depends on your eating habits, what you grew up eating, your medical history, what you enjoy eating, your activity levels, how much you enjoy cooking, your allergies AND what you have in your fridge! We always try to cook once, eat twice (sometimes in different forms-eg: we eat chili once and use it in burrito or burrito bowls the next day, grilled cottage cheese/chicken as a side one day and in wraps the next day)

Planning is key to healthy eating and making sure you stay on track with your health goals.

This is what my day looked like yesterday

7 am: I had my green tea with lemon





Breakfast 8 am: I ate 2 ezekiel toasts with avocado with a cup of decaf coffee in home made almond milk


\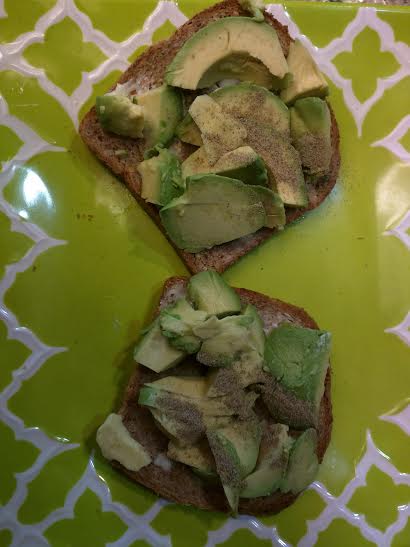 Lunch @ Noon: I had a busy day + worked out. Treated myself to a quick burrito bowl. I had pre-made Salsa (homemade-i use this recipe http://allrecipes.com/recipe/214893/the-best-fresh-tomato-salsa). Added some Lettuce, avocado, chopped tomatoes and Guacamole to the finished product below!





Snack 3 pm: I usually do not snack a lot-maybe a few nuts and seeds here and there. On this particular day, since I worked out, I had homemade protein balls that I make in batches for the entire family.







6:30 pm Dinner: We love having vegetables for dinner. On this particular day, we had salad (vinaigrette dressing) and some grilled butternut squash (with EVOO and some thyme). We had some beans from lunch for protein depending on how much protein we wanted.




Dessert: We had a piece of homemade superfood chocolate